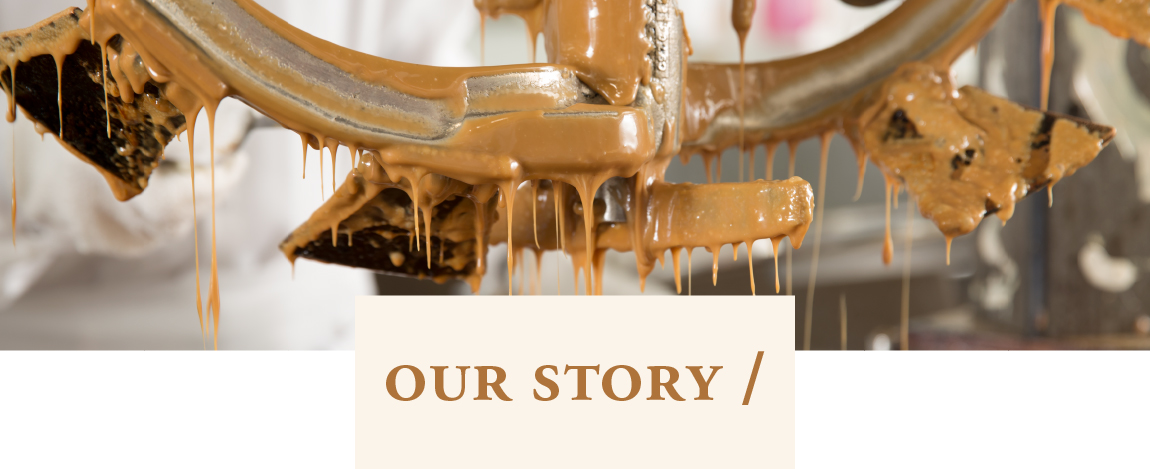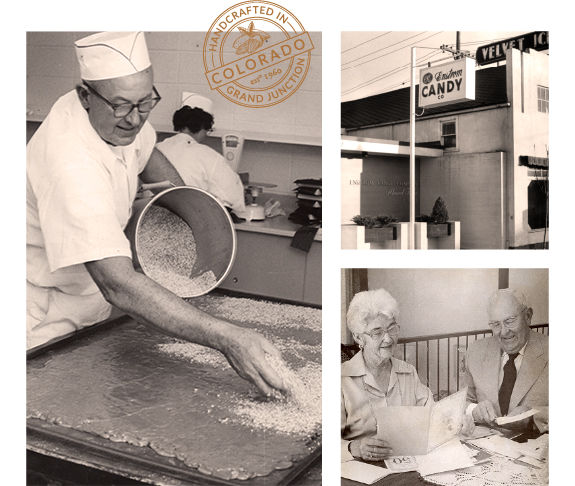 CRAFTING CREATIVELY SINCE 1960 /
Enstrom Candies is so much more than sixty years of Almond Toffee. This company was built upon a strong foundation of perseverance and community involvement.
Chester K. "Chet" Enstrom, the founder of Enstrom Candies, began his career in the ice cream business many years before he developed his recipe for Almond Toffee. In 1929, he and his bride Vernie moved to Grand Junction, they partnered with a salesman, Harry Jones to establish the Jones-Enstrom Ice Cream Company. They opened the doors in 1929 and that fall, the stock market crashed and soon after, the banks closed. Having moved to a new city and putting everything they had into their new venture, they had to get creative to keep the doors open. Years earlier, Chet had taken a correspondence course in refrigeration engineering, so he put those skills to good use and became the refrigeration expert around the Grand Valley. This allowed the Jones-Enstrom Ice Cream Company to prosper throughout the Great Depression.
Chet and Harry stayed in business together for 30 years. In that time, Chet put his hobby of making candy to use, giving the local housewives chocolate dipping lessons. He would purchase materials, make the cream centers, and then teach the delicate craft of tempering and hand-dipping chocolates. This came in handy for the yearly Grand Junction Lions Club Carnival. Chet would volunteer to run a candy booth and raffle off the hand-dipped chocolates in donated shoe boxes.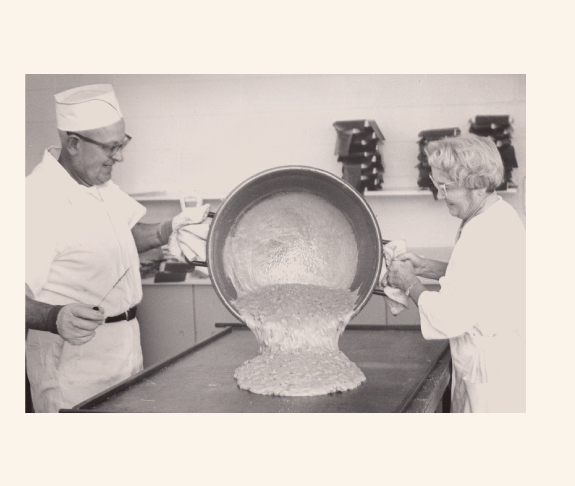 THE RECIPE IS BORN /
During WWII when butter and sugar were rationed, Chet offered to make toffee for parents to send to their boys in the service. The parents provided the butter and sugar, and he would supply the rest of the ingredients. Chet found great pleasure in these acts of service. The support he showed his neighbors was returned in kind and allowed him to pursue his true passion of making high-quality, delicious confections.
One day, while working on an inclusion for a butter brickle ice cream, Chet perfected an especially delightful treat that would soon become world-renowned: Almond Toffee. Chet's amazing recipe for buttery, rich toffee was beginning to turn heads in 1960. Together, he and Vernie opened up a mom-and-pop shop "Enstrom Candy Co." and proudly made hand-dipped chocolates, small-batch caramels, and their one-of-a kind Almond Toffee for their friends and neighbors.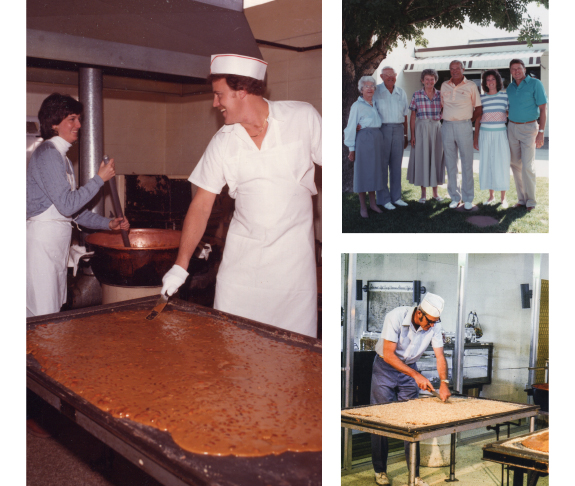 THE WORLDS FINEST ALMOND TOFFEE /
With a soaring reputation, the orders kept flooding in, and by 1965 Chet was ready to embark on his next adventure in the Colorado State Senate. He sold the business to his son and daughter-in-law, Emil and Mary Enstrom. The two took a small candy shop and shaped it into a thriving business. They created a fantastic culture and etiquette and established Enstrom Candies' role as a treasured, community-minded confectionery.
Their daughter Jamee and son-in-law Doug Simons joined the business in 1979 at an interesting time when there were 10,000 mail order customers all housed on Rolodex cards. All of the shipping labels were hand-typed and the invoices hand-written. The Simons had the opportunity to bring Enstrom Almond Toffee to the rest of the world with the introduction of technology. In 1993, Jamee and Doug purchased the company, intent on building something that their two sons, Doug Jr. and Jim, would want to take part in.
THE BRAND

To us, family is everything and we have grown our own family to include our employees and consumers. Enstrom is about building legacies, providing unforgettable experiences and exceeding expectations, which is why we incorporate the highest standards and superior quality into everything we do.
FAMILY OWNED

For 60 years, we have handcrafted Almond Toffee with only the finest, freshest ingredients. We continue to build upon principles of determination, compassion and downright hard work.
As Chet so charmingly put it, "We're just making a little Almond Toffee for a few of our friends."
OUR INGREDIENTS

Ingredients matter. At Enstrom Candies we believe in sustainably sourcing only the finest and freshest ingredients to craft our Almond Toffee and other fine confections.
With the help of our suppliers, we are able to continue to craft confections you and your loved ones enjoy.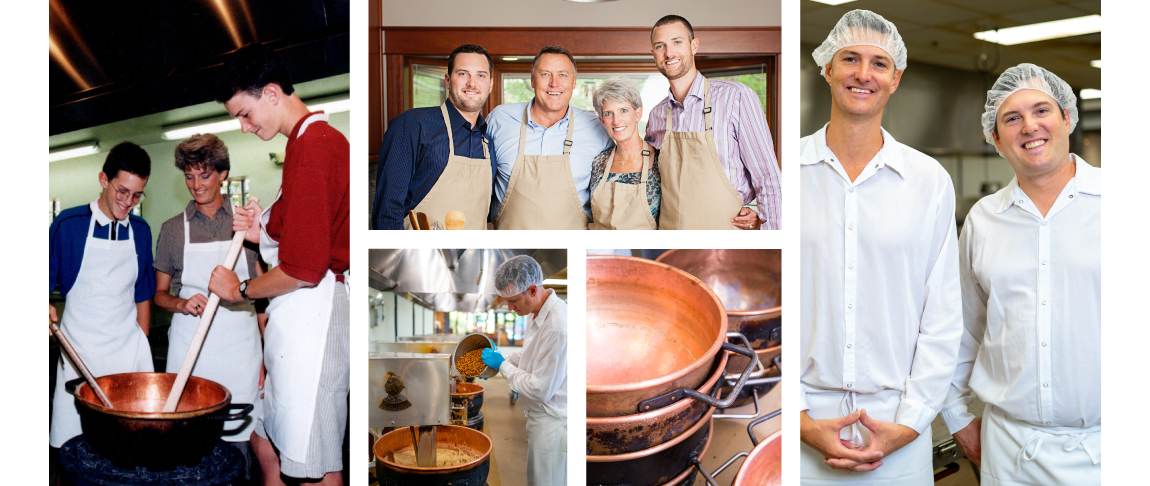 See what we're up to!
For news & all things sweet,
enter your information below to subscribe to our mailing list.